Delicious, wholesome and low on sugar. How sweet is that?
Good Measure bars are made with simple ingredients that won't cause a blood sugar spike. With three delicious flavors, sugar-conscious snackers finally have something sweet to sink their teeth into.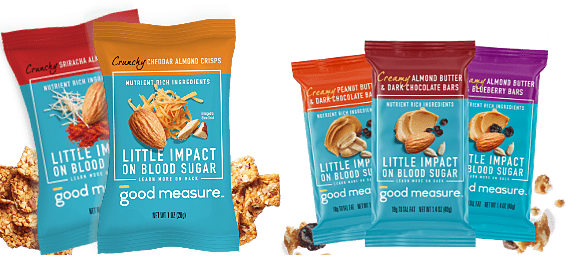 Three great flavors
Each of our three delicious bars are crafted with your blood sugar in mind and contain three grams of sugar or less.
Fun facts about Good Measure
Discover how Good Measure got its start.
The need
10.5% of Americans have diabetes and over a third have higher-than-normal blood sugar.
Mia's Story
Good Measure was started after the founders met Mia, a young girl who just wanted an easy snack.
Two years in the making
Nutrition experts spent two years crafting nutrient-rich bars with little impact on blood sugar.
Food
Good Measure brand satisfies with little impact on blood sugar
Good Measure, our newest brand, launches today at 
allingoodmeasure.com
 and in Hy-Vee stores in Minnesota.
Read More